Miniature American Shepherd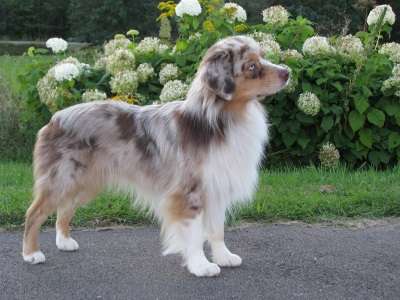 Pedigree and Breeding of the Miniature American Shepherd
The Miniature American Shepherd or Miniature Australian Shepherd has been recognized by the AKC since 1 July 2015 and is included in the Herding Group. The breed was bred from small individuals from Australian Shepherd and thus has the same origin. Since 1968, the small Aussies have been bred under the label Miniature Australian Shepherd. With the inclusion in the Foundation Stock of the AKC as a provisional breed of 09.May 201, the name was changed in Miniature American Shepherd, determined by the AKC.
The Miniature American Shepherd Club of the United States (MASCUSA), formally the North American Miniature Australian Shipherd Club of the USA (NAMASCUSA), also became the parent-club in the AKC and the Miniature Australian Shepherd Club Of America (MASCA), which has not yet been renamed and is not recognized in the AKC.
Training

The Miniature American Shepherd is a friendly, adaptable dog. He is like his big relative for agility, obedience and of course hegemony and should be encouraged accordingly.

Body Contruction

The miniature American Shepherd and the Miniature Australian Shpeherd differ from the Australian Shepherd only in size, which is between 35 and 45cm for females and between 35 and 46cm for males. So he is 10 to 12cm smaller than the Australian Shepherd. It is bred in the colors Black, Blue Merle, Red, Red Merle, white or copper badges are allowed.
Fur care requires regular brushing, but is not very demanding.
His life expectancy is 12 to 15 years.

There are currently no dogs of this breed.
read on
Still no breeds are associated with this breed!